Welcome to Nepal
Nepal is unique in itself. Being the home to Majestic Mt. Everest and the birth place of Lord Buddha, Nepal is one of the destinations in everyone's bucket lists of travel. Nepal also has the most unique national flag which doesn't follow the normal composition of rectangular shape.
This breathtaking country offers a uniquely diverse landscape with the Himalayan Mountains and hills in the north and flat expansive plains to the south. From deep gorges to towering mountains, vibrant culture and charismatic people, Nepal is the ideal travel destination for adventurers and relaxation-seekers alike.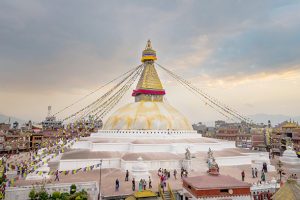 Knowing the following few things before travelling to Nepal can ease your plan to some greater extend.
Visa Policy
Nepal is one of the most visitor-friendly destinations when it comes to proving entry to the foreigners. Almost all the countries can avail visa on arrival for USD 25 for 15 days, USD 40 for 30 days and USD 100 for 90 days. Citizens of India don't need visa, upon showing an identity document. Citizens from SAARC countries are exempted from paying visa fee. The detailed information is available at www.nepalimmigration.gov.np.
Entry Points
By Air, Tribhuvan International Airport in Kathmandu serves as the main international airport having connections to several countries. From Europe, there is only Turkish Airline operating from Istanbul directly.
By Road, there are five main entries from Indian border, viz., Raxual-Birgang (closest to Patna), Siliguri-Kakarbhitta (Closest to Darjelling), Sunauli-Bhairawa (closest to Varanasi), Banbassa-Mahendrenagar (closest to Delhi), and Bahraich-Nepalganj (closest to Lucknow).
Getting Around in Nepal
There are several airlines operating domestically and offer frequent flights to several destinations from Kathmandu. Some of the places connected by flights are Pokhara, Biratnagar, Nepalganj, Lukhla, Simikot, Jomsom, Janakpur, Bhadrapur and Bharatpur. You can find the information on internal flights at www.nepalairflight.com.
Micro Bus with 10-12 seats is a popular means of transport. These buses have good coverage and are comfortable.
Local buses are cheaply available but these are usually crowded at times and the timings are confusing.
Booking a tourist bus from one of the local travel agents is a convenient option to travel within Nepal.
Ricksaw and Tempo are good options to travel within a city.  There are no fixed fare rates. So, bargain for a reasonable fare before getting in. You can always walk away and try for another.
Taxis are readily available and you can always negotiate for a reasonable fare.
Keep in mind that many destinations in rural areas are accessible only by foot. Be prepared to walk along the hills.
Language
The national language of Nepal is Nepali. There are several other regional languages sand dialects. Hindi is also spoken and understood by most of the people. English is widespread among educated citizens and urban people.
Food
Food in Nepal is spicy with various curries, rice and pickles. The traditional meal is daal bhaat tarkaari which consists of boiled rice, spiced lentils and vegetable curry cooked with spices. Goat meat (mutton) and chicken are also common form of meals. Since, Hindus hold cattle as holy, beef is forbidden in many cultures. Tea is common in Nepal with snacks.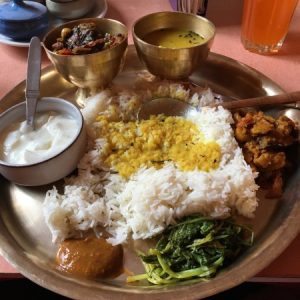 Safety Precautions
Nepal is internationally known for its overwhelming friendliness and hospitality towards foreigners. However, there are few precautions to be kept in mind to avoid unnecessary weird situations and embarrassments:
Be conscious about pick-pockets and bag snatching which are common in crowded areas.
In most of the temples there are monkeys. Be cautious if you are carrying food.
Night life is not so common in Nepal. So, take extra precautions while moving at night.
The country is highly mountainous and the roads are curvy with not-regularly maintained roads. Also flying in the Himalayas are riskier than normal flights. So, be conservative about these risks. Storms and landslides are common in summer.
Stay away from strikes and demonstrations as these can turn violent.
Be cautious about altitude sickness especially while trekking in the Himalayas.
Show marked respect to elders. Greeting with Namaste/ Namaskar (with palms together, fingers up), is considered a kind gesture.
Temples, stupas, and other religious and iconic structures must be at the right side of you when you circumambulate.
Respect the places of worships as some of them are not for tourist attractions.
Avoid stepping over someone's outstretched legs or touching anyone with your feet as these are considered impolite.
Trekking or hiking alone is dangerous for a number of reasons. You may also want to hire a guide, as the woods and mountain areas can be tricky and getting lost or injured is a real risk.
Water from the tap is not safe for consumption, even if it's from your hotel. Remember to also avoid fruit that may have been washed in contaminated water or drinking soft drinks with ice in them, as the ice may have been made from tap water.
Where Next?
Bhutan is another Himalayan experience which you may not want to miss. There is a daily flight from Katmandu Nepal to Paro in Bhutan operated by Drukair.
Mount Kailash in Tibet is another holy destination nearest to Nepal.
Various Indian destinations are at easy reach from Nepal. Also, there are several countries in South-East Asia which are equally touristic.
Nepal is sure to entice, excite and inspire you in every way possible. Stay healthy and have a nicest trip to this amazing Himalayan country.