Gaustatoppen is one of the popular peaks in Norway and the views from the mountain are spectacular.  One sixth of Norway is visible from the summit. The height of the mountain is 1883 meters with approximately 700m of elevation difference from the base. Gaustatoppen is the highest mountain in Telemark and one of the most beautiful.
Ascend to the Summit
The trail is wide and relatively easy in the beginning but as you approach the summit it is more rocky and steep. You will find some difficulty to maintain the balance as you step on each piece of rock.
The hike is 8.6km return journey and can take about 3 hours to ascend and 2 hours to descend. You can make a day hike stationing at some nearby cities and towns or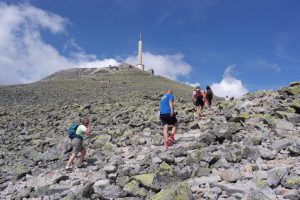 you can also station at the base on camps and start the hike early next day.
The hikers are advised to wear proper hiking boots and carry some food and water. The path is well marked and we can find number of hikers using the trail.
There is also funicular service which goes nearly to the top but the best experience is to climb by foot. The views become increasingly beautiful as you approach the top and you will see the mountains in Telemark, Buskerud, and Oslomarka in the distance.
Right before you reach the top, you will arrive at the Gaustatoppen Tourist Cabin, serving food and offering overnight accommodation but make sure to book in advance. There is also toilet facility at 5 or 10 kroner.
The best hiking months are from May till September. Even in August, the weather is cold and make sure to check the weather condition before you plan. You may find the necessary booking information for overnight accommodation, using funicular services and other necessary information at www.gaustabanen.no.